What's the difference? New or used. Sorry what the cost saving? Wheather your looking for a Short-term hire, contract hire or purchase. Complete Material Handling can provide a huge selection of used forklift trucks with immediate availability. With 100's of available trucks, Complete Material handling are capable of providing the truck you with a suitable and reliable truck. After your free site survey, we will be able to build your criteria for the right truck and price range. Our specialist team will prepare and agreed specification required, to then provide you with a list of suitable, available trucks for you to consider.
A recent success story came to light, after we received a glowing report back via Jamie William-Hudson, our Teesside and Darlington Senior Sales Manager. Jamie provided his client with a refurbished Linde, making huge saving to the client from new. The 5t tonne, Diesel inc full cab and side shift, which was an ideal fit for their business. Saving them tens of thousands versus buying new.
Teesside based John Clarke Valves, benefits from used truck range
Complete Material Handling used trucks, provides quality and confidence for international Pump Supplier.
Established Valve manufacture based in Teesside for nearly 35 years, which is now established as one of the country's largest valve stocklists, that delivers both National and International clients.
The Family ran business, has maintained their reputation within the industry, and the Husband and Wife team have continued to provide excellence in their customer service, with high product availability and fast delivery as the cornerstone of the company's business growth and strategy.
In the valve and distribution sector there is a significant need for effective and dependable handling, with some values weighing up to 2500lb there is obviously a serious need for a forklift truck that can provide the lifting capacity and the reliability required to perform at such a high level.
We Spoke to Managing Director, Tony Roberts to tell us about his experience so far. "Jamie (Area Salesman) gained an understanding of our requirements around our products early on in the conversations. It's a priority to take care and to be focused around our pumps. The pieces of precision engineered equipment we provide, need to be handled with care and consideration when lifting. Our onsite wares house allows us to have a mass storage operation, in our warehouse as well as daily and constant on/offloading of up to c collective 25 tonne loads per delivery truck, which needs to be managed safely. Hence the reason why we need good, reliable, robust forklift trucks with fast service backup, and that's what have received from Jamie and his team. So far, Jamie and Complete Material Handling delivered what they said, which was a seamless, simple and clear process. We have had the trucks in operation now and couldn't be happier. We would happily recommend Complete Material Handling"
Complete material Handling have a wealth of available used trucks available to buy or hire.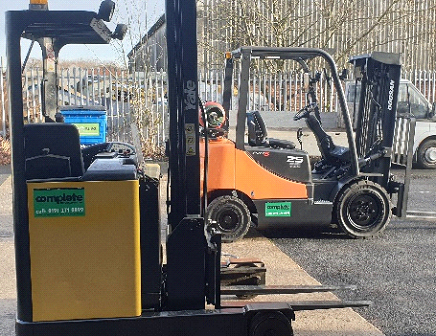 In October 2019 Jamie delivered a solution to John Clark Valves in the form of a used 1.6 electric reach truck and 2.5 tonne Doosan, both fully serviced.
At Complete Material Handling we are fairly confident that we can get best in the market value for our customers. Our challenge is to provide the best service, value and trucks available. Complete material Handling have a wealth of available used trucks available to buy or hire for all budgets.
For a competitive quote on refurbishing your current truck, buying new or used or just a chat around the benefits of working with Complete Material Handling, why not call us on 0191 271 8990, and arrange a free consultation.